Chef Yogendra Pal's delicious Mawa Paneer Kofta Curry pairs mawa (khoya or milk solids) with paneer, mushrooms, palak (spinach), raisins/prunes, apricots, cashews in crispy fried koftas, which are then dunked in a creamy gravy.
Have this curry with butter naans, steamed rice or vegetable pulau.
Chef Pal, who hails from Kasauli in Himachal Pradesh, and converses in four languages, has, over 30 years, done stints with leading hotel chains, including Oberoi, Hilton, Marriott, Hyatt. He now showcases the best of his Indian cuisine for the Southeast Asian hotel group, Amari, leading a team of 30 chefs at a property in the Maldives. He is known to be a passionate creator of continental dishes as well.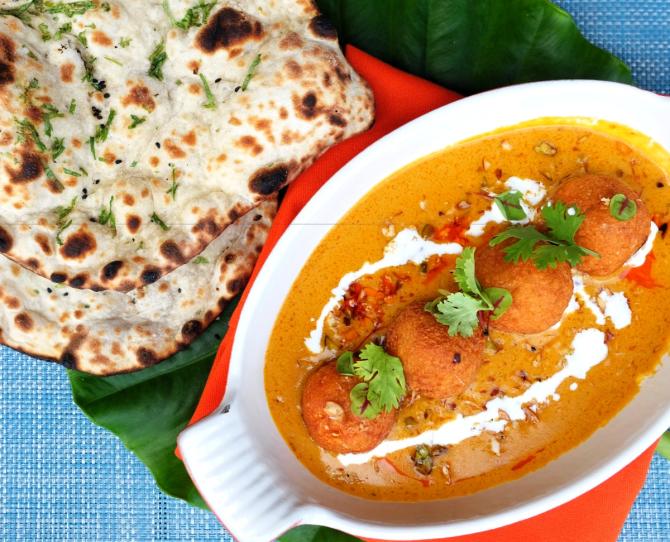 Mawa Paneer Kofta Curry
Serves: 3-4
Ingredients
For the koftas
500 gm paneer, grated
200 gm khoya or mawa or milk solids
100 gm mushrooms, finely chopped
100 gm palak or spinach, finely chopped and blanched
50 gm prunes or raisins, finely chopped
100 gm besan or chickpea or gram flour, roasted
50 gm fresh or dried khubanee or apricots, finely chopped
25 gm cashews, finely chopped
10 gm green chillies, finely chopped
25 gm pistas, skinned and finely chopped
25 gm jeera or cumin seeds, powdered and roasted
15 gm red chilly powder
5 gm green elaichi or cardamom powder
Salt to taste, around 1½ tsp
Oil for deep frying
For the gravy
250 gm onions, chopped
50 gm ginger-garlic paste
10 gm green chilly, chopped
10 gm whole green elaichi or cardamom
5 gm whole dalcheeni or cinnamon
5 gm lavang or cloves
3-4 tej pattas or bay leaves
25 gm dhania or coriander powder, roasted
25 gm jeera or cumin powder
5 gm haldi or turmeric powder
20 ml fresh cream
20 gm fresh green dhania or coriander or cilantro, chopped
10 gm green chillies, julienned
5 gm green elaichi or cardamom powder
200 gm ghee
Method
For the koftas
Combine all the ingredients (except the oil) together in a bowl.
Knead into a coarse dough using your hands.
Divide into small portions and roll into 2-cm diameter balls.
Heat the oil in a kadhai and fry the koftas, in batches, until golden brown over medium heat.
Keep flipping so they cook evenly.
Drain from the oil and transfer onto a paper towel or tissue-lined plate.
Keep aside.
For the gravy
Heat the ghee in a kadhai.
Add the whole green cardamom, cinnamon, cloves, bay leaves.
Add the chopped green chillies, onions, ginger-garlic paste.
Cook until the onion turns light brown in colour.
Add the turmeric powder.
Stir and cook it for a few minutes.
Add the roasted cumin powder and the coriander powder.
Keep cooking until the oil begins to separate from the spices.
Take off heat and keep aside.
Once cool, transfer into a blender and grind to a fine paste.
Add some water and mix.
Strain the ground mixture through a channi or sieve back into the same kadhai.
Place it over low heat and then add the cream.
Let it simmer over a low heat for a few minutes.
Drop the koftas into the gravy and simmer for 5 minutes.
Take off heat and garnish with the chopped green coriander, julienned green chillies, cardamom powder.
Serve hot with steamed rice or butter naans.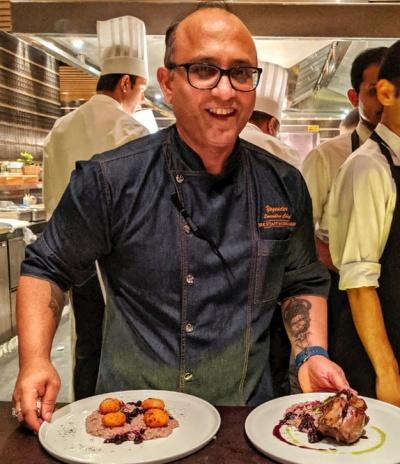 Yogender Pal is the executive chef at Amari Raaya Maldives, Kudakurathu Island, Maldives.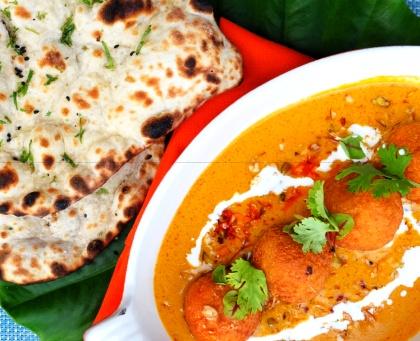 Source: Read Full Article