A simple but quirky recipe to make nachos canapes with brinjal at home from Sushant Parab, Executive Sous Chef, Sahara Star, Mumbai.
Nacho Canapes
Ingredients
1 pack (60 gm) nacho crisps (preferably a flavoured one with cheese and herbs)
100 gm brinjal or eggplant, diced
2 tbsp oil
5 gm garlic, chopped
5 gm ginger, chopped
2 red chillies, diamond cut
Few leaves of fresh basil
4 tbsp cornflour
1 tbsp soy sauce
Few kafir lime leaves
Method
For marinating the brinjal
Take a large bowl. Add diced brinjal and slowly keep adding the cornflour.
Mix well so that the brinjal gets coated with the cornflour. Keep the excess cornflour aside.
Add oil in a pan. Warm.
Add the brinjal and pan fry until golden brown.
Remove from the pan with a slotted spoon onto a kitchen towel to drain off excess oil.
For preparing the sauce
In a saucepan add a little oil.
Once the oil is hot, add the chopped ginger and garlic and saute for 2 minutes.
Add crushed lime leaves so its aroma gets infused into the sauce.
Add a little water, soy sauce and salt.
Separately in a small bowl dilute the cornflour with a few teaspoons of water, mix and add it to the sauce to thicken it.
Add the basil leaves. Remove the kafir lime leaves.
Add brinjal and mix so that it gets coated in the sauce.
To assemble
On a platter arrange the nachos.
Place a layer of the marinated fried brinjal.
Top it with basil leaves along with diamond-shaped red chilli.
Serve it hot with sauce.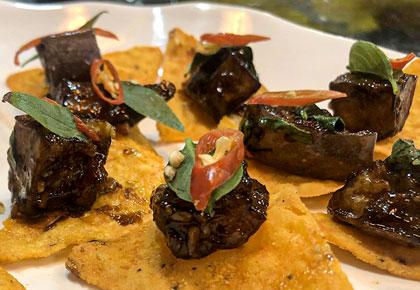 Source: Read Full Article