Bored of the regular kheer?
Tried making it with chawal or rice, sabudana or sago, quinoa, green peas, sevaiya or vermicelli, makhana or fox nuts?
It's time to whip up Sangita Agrawal's Chenna Kheer or Cottage Cheese Milk Pudding.
Ideally use homemade cottage cheese or chenna, which is a softer, less compacted version of paneer. If you're running short of time, use store-bought paneer, but preferably not.
Sweeten your kheer with sugar, jaggery, a sugar equivalent or condensed milk. Sangita, a veteran vegetarian cook, used brown sugar and loved how the dish tasted.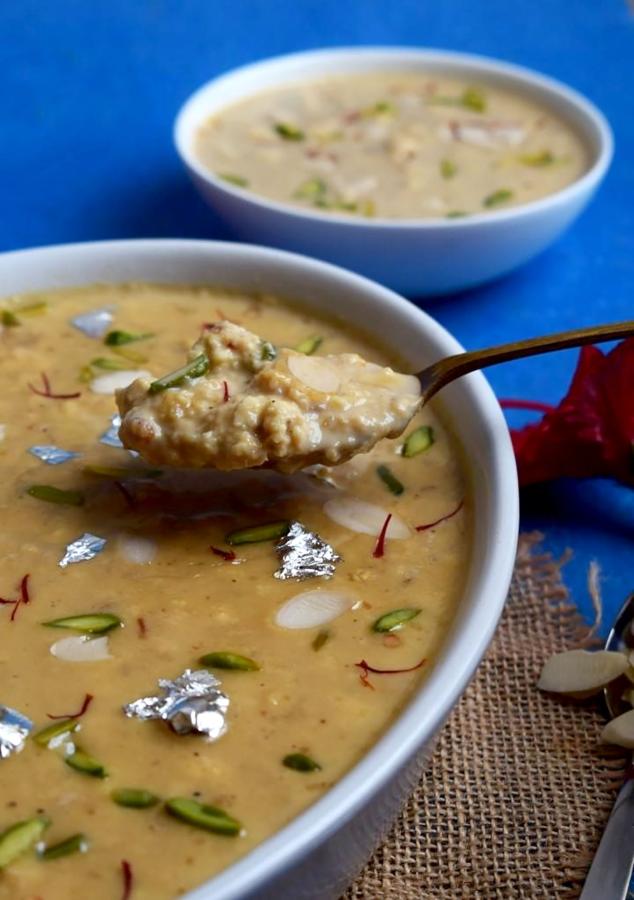 Cheena Kheer
Servings: 6
For the chenna
1½ l full-cream milk
2 tsp lemon juice
2 tsp water
For the kheer
2½ l full cream milk
1 cup brown sugar or ¾ cup sugar
¼ cup coarsely powdered cashew
½ tsp green elaichi or cardamom powder
1 tbsp slivered almonds
1 tbsp slivered pistas
A few strands kesar or saffron, optional
Vark or silver foil, optional
Method
In a saucepan, heat the milk for the chenna.
When it comes to a boil, add the lemon juice mixed with water and stir.
The milk will separate into curd and whey.
Take off heat and let it rest for 2 minutes.
Strain the mixture through a sieve and collect the chenna.
Rinse the chenna under running water to wash away any lemon juice remaining.
Wrap the chenna in a cheesecloth and place something heavy on top, for 30 minutes, to get rid of excess water.
Meanwhile, heat 2½ litres milk in a heavy-bottomed saucepan.
Once the milk comes to a boil, reduce the heat.
Let it simmer over low heat till it reduces to half.
Stir in between to prevent the thickening milk from sticking at the bottom.
Add the sugar and stir till it dissolves.
Crumble the presed chenna and add to the milk.
Let it cook over low heat for 10 minutes stirring occasionally.
Add the cashew powder, cardamom powder to the simmering kheer and stir to combine well.
Take off heat.
Add the saffron.
Garnish with the sliced almonds and the pistachios.
You may add little flecks of silver vark or foil — it is optional and will not make a difference to the taste and is decorative.
Serve slightly warm or even at room temperature.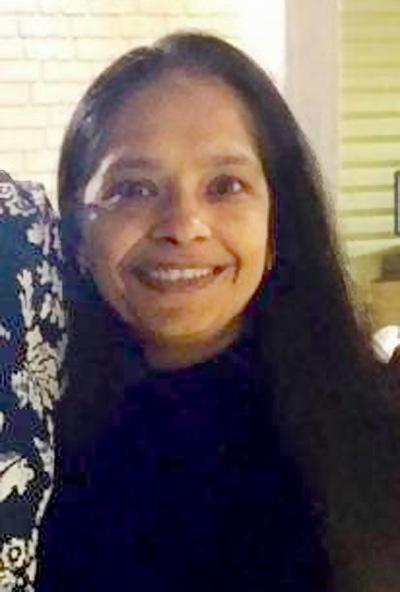 Sangita Agrawal lives in Mumbai and publishes the food blog Bliss of Cooking.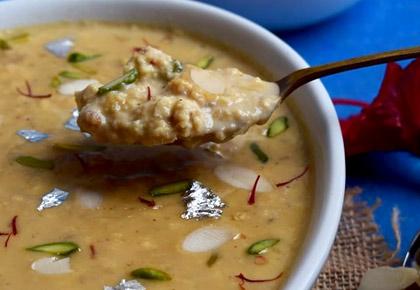 Source: Read Full Article