This week, spoil yourself with a batch of soft dim sums that will transport you straight to China.
Back in China, people treat themselves to dumplings with a filling of meat, pork or fish on the Chinese New Year.
The Chilly Cheese Dim Sum is perfect for vegetarians or lovers of cheese — it features two varieties of cheese and will melt in your mouth.
Steamed to perfection, garnished with dried chilly, fried garlic and spring onion greens, it's served with a pungent hot sauce and chilly oil.
If you'd like to speed the process, opt for dim sum wrappers, or else go the traditional route and make the pastry from scratch.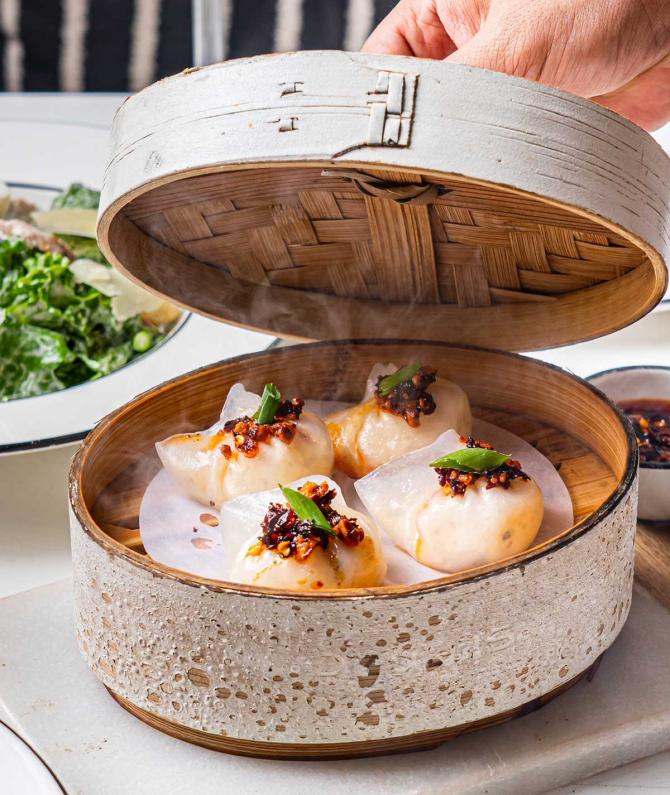 Chilly Cheese Dim Sum
Recipe courtesy: Donna Deli
Servings: 20
Ingredients
For the stuffing
400 gm cream cheese, preferably Philadelphia cream cheese
100 gm mascarpone cheese
2 tbsp chopped singhara or water chestnut
1 tsp fried garlic
1 tsp chopped scallion or spring onions
1 tsp chopped dried chilly
Salt to taste
For the pastry
20 potato and wheat starch dim sum wrappers
OR
250 gm maida or all-purpose flour
Warm water
Pinch salt
To garnish
Dried chilly
Fried garlic
Chopped spring onion greens
To serve
Hot chilly sauce
Chilly oil
Method
For the stuffing
In a mixing bowl add all the ingredients.
Mix well until you get a pasty texture.
Divide the mixture into 20 portions and roll them into balls.
Keep aside.
For the pastry
In a mixing bowl, add the flour and a pinch of salt.
Add the warm water, 1 tbsp at a time, and keep mixing until the water is fully absorbed.
Using your hands, knead for 15-20 minutes until a smooth, semi-soft dough.
Cover with a moist cloth or plastic wrap and let it rest for 30 minutes.
To assemble
If you are using the dim sum wrapper, place them on a flat surface.
Dip your fingers in a bowl of water and dap the edges of the wrapper.
Place 1 tbsp of the filling in the centre and roll the dim sum to a desired shape.
If you are making the dim sum pastry from scratch, divide the dough into 20 equal parts.
Roll out each part and place the filling in the centre.
Fold and pinch the edges to make pleats.
Seal the pleats so that the dim sums do not open.
Line a steamer rack with parchment paper.
Boil water in a covered steamer over medium-high heat.
Place the filled dim sum in the lined steamer basket, a few inches apart.
Steam for 10 minutes.
Take off heat.
Garnish with dried chilly, fried garlic and serve with hot chilly sauce and chilly oil.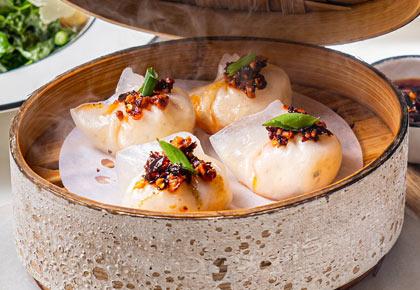 Source: Read Full Article