During her appearance on 'The Breakfast Club', the former 'The Real Housewives of Atlanta' star sets the record straight amid speculations that her 23-year-old son is gay.
AceShowbiz –NeNe Leakes has addressed her son Brentt's sexuality after he seemingly came out as gay. During her appearance on "The Breakfast Club" on Monday, January 30, the former "The Real Housewives of Atlanta" star set the record straight.
"Brentt is not gay," NeNe said, "Not to my knowledge." The 55-year-old star also revealed that she spoke with her son on the phone after her friends called her and showed concern about Brentt's TikTok video on Saturday.
"He called me up and was like, 'Mom, everybody is asking if I'm gay because I did this TikTok thing,' " NeNe explained. "And I said, 'It's OK if you are gay. It's fine with me.' And he was like, 'OK, Mom, I'm not gay.' "
The former Bravolebrity added that she didn't know "what the big deal" was even if her son did come out as gay. She noted to host Charlamagne tha God that for her, Brentt's "happiness is the most important thing."
NeNe continued, "I don't need to ask him, 'Are you gay?' What I like to say to people is … 'Whatever makes you happy.' If my son today says he's gay, I'm 100 percent OK with it."
Brentt has yet to publicly comment on the gay rumors, but he responded to his mom's interview. On the same day, he reposted the video on Instagram Stories and left some crying-laughing emojis on a friend's response which read, "MF Don't know, You Mr.B***hes Himself."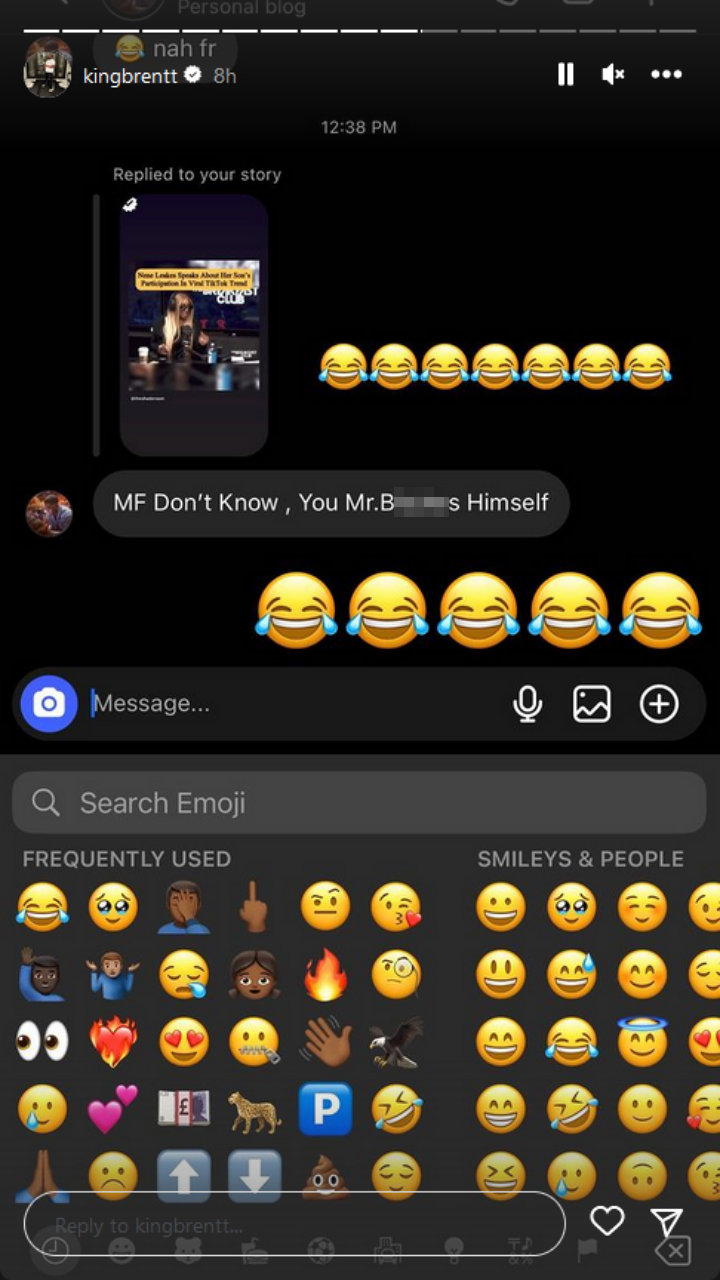 NeNe Leakes' son Brentt reacted to his mom's new interview.
The speculations that Brentt is coming out as gay started after he posted a TikTok video of himself trying to throw a wadded ball of paper into a trash can, but he missed it. "If I miss, I'm gay," so he captioned the footage.
Some fans did take it as "a joke," but some others thought it was Brentt's way to come out as gay and congratulated him in the comment section.
You can share this post!
Source: Read Full Article