Celebrate Lohri with food blogger Sangita Agrawal's homemade Pindi Chana.
"Pindi Chana (chole or chick peas cooked with spices) is a classic dish from the very famous Punjabi cuisine," says Sangita.
"It is distinctively different from other chole recipes. The major difference in preparing this dish is that there is no use of onion, garlic and tomatoes."
Pindi Chana
Serves: 3-4 people
Ingredients
1 cup chole, soaked overnight
2 bay leaves
1 teabag
½ tsp salt
For dry masala
2 cloves
2 green cardamom
1 mace
1 small piece of cinnamon
1 tbsp coriander seeds
2 dry red chillies
2 tsp cumin
1/3 tsp peppercorns
2 tsp anar dana (pomegranate seeds)
1-2 tsp amchur (dry mango) powder
1/3 tsp sonth (dry ginger) powder
1 tsp kasuri methi (fenugreek)
A pinch of hing (asafoetida)
For the tempering
2 tbsp ghee or oil
1 tsp ajwain (carom seeds)
1 tsp ginger, chopped
1 green chilli, slit into half
For the garnish
A small piece of ginger, cut in juliennes
1 green chilli, slit into half
A slice of lemon (optional)
2-3 onion slices (optional)
Method
Dry roast all the dry masalas in a pan.
Grind into a coarse powder.
Boil the chole with bay leaves, tea bag and salt in a pressure cooker till soft.
Remove the tea bag and continue to cook on low heat with the lid open for a few minutes.
Heat ghee in a pan.
Add ajwain, ginger and saute for a minute.
Add the green chilli and saute for 30 seconds.
Add the dry masala and saute for 30 seconds.
Add the chole and cook for 5 mins.
Adjust the seasoning to your taste.
Garnish and serve.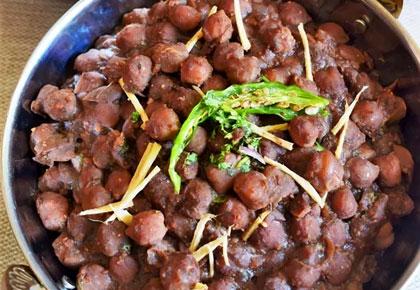 Source: Read Full Article