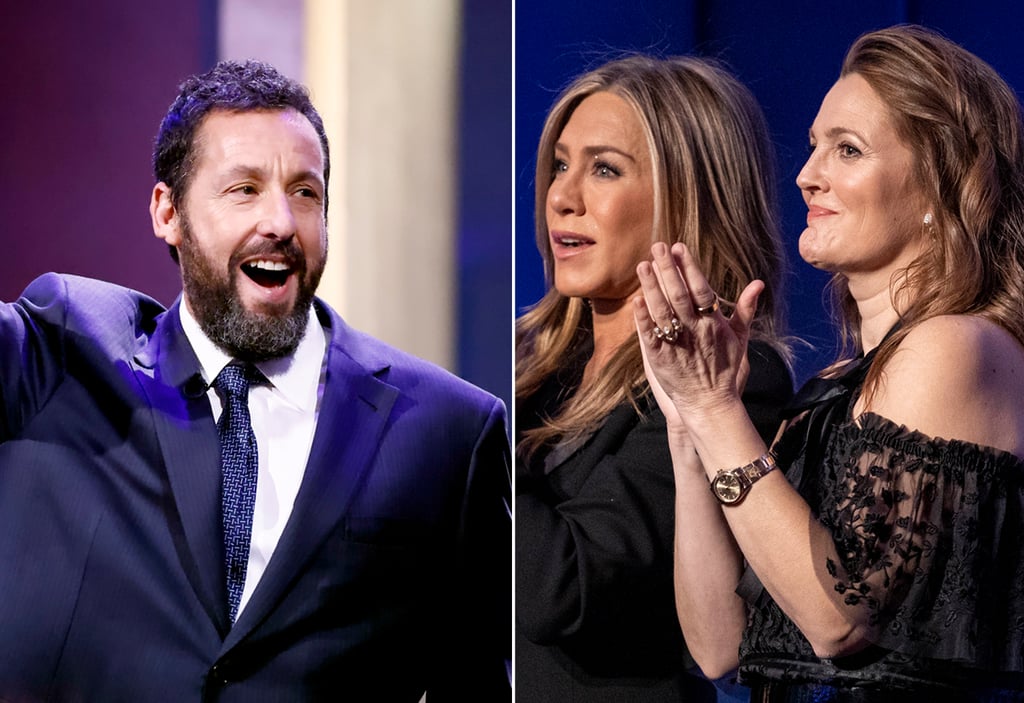 Jennifer Aniston and Drew Barrymore Cheer On Adam Sandler as He Receives Mark Twain Prize

Jennifer Aniston and Drew Barrymore seem like the kind of costars you'd want to work with again and again — especially if you're Adam Sandler. The duo showed up to support their costar and longtime friend as he received the Mark Twain Prize for American Humor on March 19. The star-studded ceremony — which took place at the Kennedy Center Concert Hall in Washington DC — was also attended by Idina Menzel, Chris Rock, Steve Buscemi, Ben Stiller, Pete Davidson, and Adam's wife, Jackie Sandler.
"As I look at this goofy award I'm holding, I just can't help but think this just may be the weapon used to bludgeon me, by an angry intruder," Sandler joked in his acceptance speech, per The Hollywood Reporter. He then went on to discuss how much he loves making movies with people he loves. "When someone asks me: those bad reviews you get — how does that make you feel? The reason they don't hurt me is because [my friends and I are having so much fun making these movies]," he said. "Everything we do together makes me feel like the critics don't know what they're talking about."
Barrymore and Aniston have both starred in a number of movies with Sandler over the years. Barrymore has shared the screen with the comic in three films — 1998's "The Wedding Singer," 2004's "50 First Dates," and 2014's "Blended" — and the pair have also shared a sweet offscreen friendship for more than two decades. "I just saw a charm and a talent," Barrymore told the Associated Press on the red carpet at the March 19 ceremony, saying she was "magnetically" drawn to Sandler when she first met him. "So much of what any romantic comedy or film should have is that ultimate authentic chemistry," she continued. "Which is not because you need to be together, but you have to love that person that much. And that's how I felt about him."
The feelings are clearly mutual. "No matter what's going on, I'm always pulling for Drew, and she's the same way, whenever I'm doing something. I know she's pulling for me," Sandler told Collider in 2014. And another collaboration is certainly on both of their radars. "She's a guarantee, always," Sandler told Hollywood Life in 2020 when asked if another Sandler-Barrymore movie was in the cards. "She's a guarantee happy time for me." In December 2022, Barrymore also said it was about time for the pair to collaborate again. "I want to do another movie with Sandler," she said during an interview on the "Chicks in the Office" podcast. "We've done it every 10 years, and it's about to be 10 years."
Meanwhile, Aniston and Sandler will next appear on screen together in "Murder Mystery 2," which premieres on Netflix on March 31; the pair costarred in the first "Murder Mystery" in 2019. They also played lovers in the 2011 rom-com "Just Go With It." According to Sandler, playing a couple with Aniston wasn't that uncomfortable, at least until his wife got involved. "When we kissed, the only awkward part is hearing my wife on the side go, 'Harder! Harder! Kiss her harder! Deeper!'" he joked to the Associated Press in 2019, to which Aniston replied, "That was awkward." In 2020, Sandler celebrated their friendship, telling Us Weekly, "Jennifer and I are great friends. She works well without me. I'm just glad when she invites me for the ride!"
Ahead, check out some photos of Barrymore, Sandler, Jackie, and Aniston at the event, which will air on CNN on March 26.
Source: Read Full Article