The 'Back in the Day (Puff)' hitmaker is baffled as to why people feel the need to mention her age when stories are being written about her after she debuted her partner on Instagram.
AceShowbiz – Erykah Badu has fought back at critics of her age gap with her fiance. After introducing her partner JaRon Adkison, who is reportedly 23 years her junior, the singer/songwriter questioned why people feel the need to mention her age when stories are being written about her or other women over 30 years old.
Taking to her Twitter page, the "Love of My Life (An Ode to Hip-Hop)" songstress asked on Monday, December 6, "Why every time there is an article about a woman over 30 the journalists mentions the age ?" She added alongside a close-up photo of her teeth, " 'Erykah bardu' , 50 does the splits … e. Badu 50, had feelings …' It ain't my birthday, or death day . So, What does this MEAN ? (my grill cold tho)."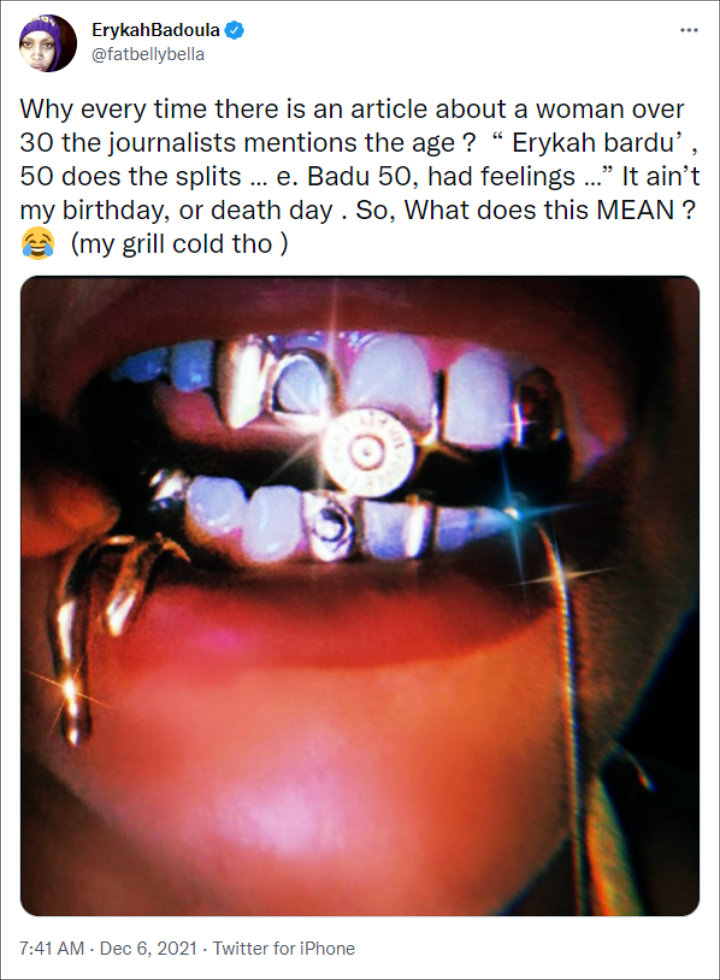 Erykah Badu clapped back at criticism of her age gap with her fiance.
Coming to her defense, one follower replied to her, "that's because you don't look 50,who's writing the story? years ago, a person 50 years young was 50!!! not far from the nursing home for some types, to me 50 is just the beginning of middle age which is 60 in my opinion, just think what they're going to write when you're 70 +."
Another supported Erykah, "We know what they are trying to seh. It doesn't matter what they trying, you are doing and doing it well. Maad luv to the QueenE from the Highest Region." A third fan added, "They r trying to put ur age out there because what ur doing is amazing but at that age is just unheard of. There r too many stipulations on age, especially for women. Keep ur head up queen!!!"
"Cause they have no respect for us and our craft period. Disrespectful and desensitizing us about our health. Live fast die young mentality," someone blasted the critics, while another shared, "They think we are washed after 30 they don't have a clue of the Golden nuggets after 50."
Erykah introduced her partner on Instagram on Saturday, December 4 amid engagement rumors. "Solar Eclipse Dump. Making room for many many many more memories," she wrote along with photos of her man, who is reportedly 27 years old.
"Right now , Moon covers the suns eyes forcing it to use other forms of vision. (Closes Eyes) I see you with my heart. I see you with my gut," she added of JaRon, who describes himself as a "Music Producer, Audio Engineer, Artist, Songwriter, Author" on his Instagram page. "Here's to my GUY & Setting intentions, Breathing easy, moving in unison, finely blended family harmonics. Thank you . Thank you . Thank you . Happy to be here on this school called earth.. with you . @jaronthesecret (family first)."
It's unclear how long Erykah and JaRon have been dating, but their pictures together stretch back to 2018 on his Instagram page, meaning they have been in each other's life for quite a long time.
Source: Read Full Article