Chef Sara Jacob Nair's delicious Chakka Varatti, which is eaten like a sweet relish at the end of a meal in small quantities, is made from ripe jackfruit. It is slow cooked and reduced in jaggery and ghee.
Easter mostly falls in the summer, rarely in the spring, and Sara, who is originally from Kochi, was always surrounded by fresh fruits at that time of the year.
"It's the season for jackfruit and people don't know what to do with the ripe ones. Some of it is dried and stored away. Another good idea is to use it to make Chakka Varatti. If made well, it can last for years. As a kid, my mom used to hardly put jaggery, because the ripe jackfruits are insanely sweet."
Sara's dad was very spiritual, and she was always encouraged to observe Lent. After days and days of abstinence and eating vegetarian meals, Easter was a big celebration at Sara's home as finally meat would be served.
The classic spread would feature Duck Roast, Fish Moilee, Mutton Stew and Appam. "We also had fish in banana leaf, which my mom would complain was a task to make. But then she would end up making it for every meal."
"Dessert would be caramel custard or seviya payasam and in Nasrani households we would have cakes. Not the Christmas cake, but the dense pound cakes. And all of us would have toddy that day. Even as a five-year-old girl, I remember having toddy. Back then we didn't have the Easter egg and bunny. I knew these stories, but I didn't taste any of that as a kid."
Sara, who is the chef and founding partner of Nair On Fire, a chain of delivery kitchens in Mumbai, decided to go back to her childhood and add a few unusual items in her Easter menu for patrons. She has included Meen Pollichathu (fish curry made with the pearl-spotted fish), Erachi Choru (Kerala meat rice), Angamaly Pork and Chakka Varatti.
"Growing up I was a tomboy and didn't have a clue about cooking. But my aunts were effortlessly good cooks. My grandmother had a rule when we would spend the summers with her. It was that we needed to learn to make basic food, at least cook one meal. At any time, if you had to eat something, you should know what to cook. It was a basic skill, and one didn't essentially need to make it tasty. My mom passed away 10-12 years ago, and I learnt a lot of cooking from her too."
Chakkavaratti
Serves: 6-7
Ingredients
Dry ingredients
300-400 gm dark jaggery
5-6 green elaichi or cardamoms, peeled, seeds crushed
1 tsp saunth or dry ginger powder
Wet ingredients
1 kg ripe jackfruit, deseeded
8 tbsp ghee
150 ml water
Method
In a blender, puree the jackfruit, but let there be some bits to bite.
Over medium-low heat, melt the jaggery.
Once it cools, strain the syrup and keep aside.
Heat a heavy-bottomed saucepan with a wide mouth.
Ideally you can use a typical Kerala bronze uruli.
Add the pureed jackfruit with the water and cook over medium heat.
Once the jackfruit mixture comes to a boil, add the jaggery syrup.
Keep stirring over low heat till it reduces and the water has evaporated.
First add 1 tbsp ghee and keep adding the ghee, spoon by spoon.
When the chakkavaratti is done, it will turn dark, thick and firm.
Add the ginger powder and the cardamom powder.
Add the remaining ghee, take off heat and transfer to a plate.
Spread it out evenly till it cools down and serve like a thick jelly-like relish at the end of a meal, a few tsp per portion.
The chakkavaratti can be stored in airtight containers once cool.
If stored and handled well, this will remain outside of refrigerator for month.
If refrigerated, it will last for months.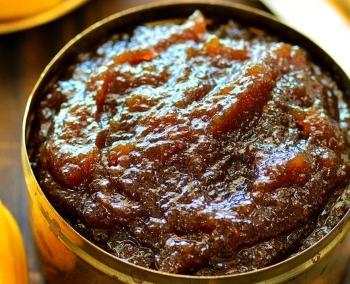 Source: Read Full Article