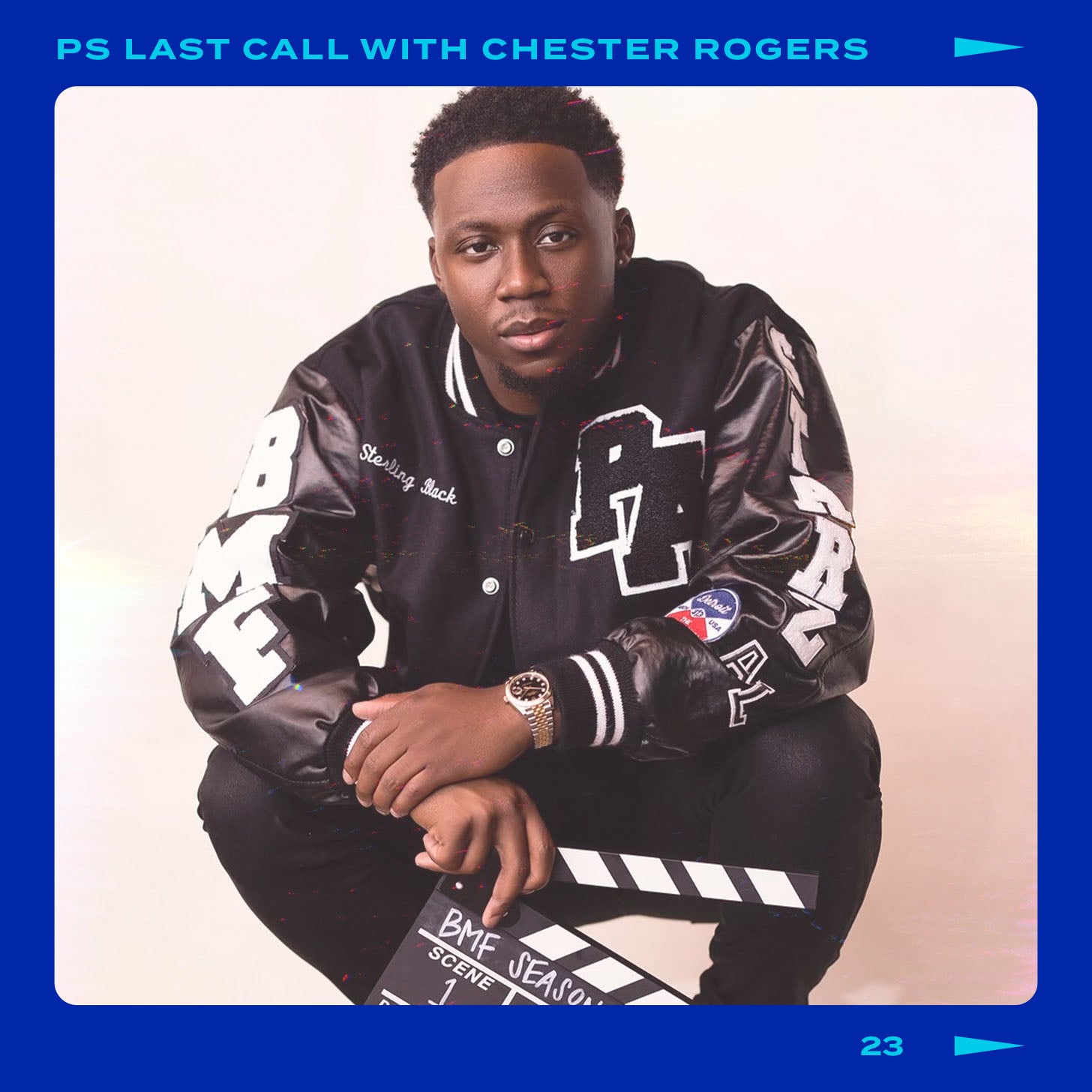 In our Q&A series Last Call, we get down to the bottom of every last thing with some of our favorite celebs — from the last time they were starstruck to the last song they listened to. This week, "BMF" actor Chester "Tre" Rogers takes our call.
NFL player Chester "Tre" Rogers knows he's doing the impossible with his recurring role on Starz's "BMF." Last year, the 29-year-old Cleveland Browns wide receiver landed himself a part in the hit true crime drama, which returned for its second season on Jan. 6, as Sterling "Sterl" Black — head of the PAs (a local Detroit gang) and an ally to BMF. Rogers made his show debut in episode 203, "Devil's Night," and he says viewers will see a lot more of his character in season two as his and Meech's (Demetrius "Lil Meech" Flenory Jr.) relationship "becomes an intricate one throughout the show."
While Rogers is pretty active on the football field, he's no newbie to the acting game. He started his entertainment career at 10 years old, starring in early 2000s movie projects like "Constellation" with Gabrielle Union and Billy Dee Williams, "Dirty" with Cuba Gooding Jr., and Tyler Perry's "Madea's Family Reunion." Part of Rogers's 18-year break from the industry was due to his athletic career, but he tells POPSUGAR his "surreal 'BMF'" opportunity arose during his offseason after the 2022 playoffs.
"Honestly, it's a crazy story," he says. While randomly out to eat with his family, Rogers connected with a show producer whom he sent his résumé. He thought nothing of the encounter afterward — until he got an email two weeks later. "I'm in Houston with my son — it's like nine, 10 o'clock at night — I look at my email and I have an audition from a casting director," he recalls. "I dropped everything at that moment and got back on the earliest flight the next day to Atlanta. I had 48 hours to audition. Mind you, it's been 18 years since I've ever did anything [because] I've been playing football. So I had 48 hours to prepare, and I nailed it."
Booking a role on "BMF" reopened the door on Rogers's acting career, but he knew balancing it with football would be a tough task. "This past year for me was the most difficult one — challenging I would say," he shares. "Mentally and physically because I finished the playoffs [in 2022 and] two minutes later, I'm on set for six months working 12- to 14-hour days filming this amazing TV show. And I have to also figure out a way to keep my diet on point, work out, and get on the field."
Rogers reveals that he turned down the chance to sign with 10 different NFL teams just so he could finish filming "BMF." Even still, he almost immediately went right back to training for the next season only a few weeks after the show wrapped. "It's never been done before," he adds. "I don't really know how I'm doing it. It's through the grace of God and just a lot of sacrificing. I can't give 100 percent to everything in my life, which is probably the most challenging thing, but [I'm] doing it. It's been done. The season just finished. 'BMF' is out."
Despite the exhausting grind of football and acting, Rogers is confident in his ability to see both paths through. "I like a challenge," he notes. "I like when people doubt me — it just gives me extra motivation. I also knew that it would give motivation to people out there like, look, whatever it is that you want to do in life, do it. Don't let someone put you in a box. I applaud people like LeBron James, who has his whole campaign, 'More Than an Athlete.' That touches me in so many different ways because that's who I am . . . I just wanted to be the first to do it; to show people you can do whatever it is you want. That's what keeps me going."
Source: Read Full Article