Jayanti Soni, who regularly contributes her wonderful Rajasthani recipes to Rediff.com, was on her way, by road, to Bhinmal in Rajasthan to celebrate Diwali with her family and her husband's family.
At a wayside stop, she penned a special Diwali recipe and spoke about the special Bhinmal Diwalis of her childhood.
It is these memories that take her back to Bhinmal each year for the grand festival of lights. Celebrating in impersonal Mumbai cannot compete with the cosy, traditional family Diwalis back in Rajasthan, full of warmth, in her small town.
"Bombay mein Diwali bahut simit hai (it's a very limited version of Diwali). There are just the four of us. Pollution itna jyada hota hai ki ghar se bahar nahin nikal paate hai (And there is so much pollution that you can't even get out of your house)."
Preparations started a good 15 days before at Jayanti's home in Rajasthan. The opening item on the agenda was the Diwali clothes — frocks for the little girls in the family, salwar-kurtas later as the girls grew older and outfits for all.
"First of all, from 15 days before, ek tailor ghar par betha dete the (a tailor would arrive to work at the home). He would take everyone's measurements and within two or three days he had stitched two or three sets of clothes for each one.
"I have four brothers and five cousins and we all lived together — nine brothers and sisters, parents, an uncle, an aunt, grandparents. Eighteen members were there in the home. Sabke ke liye new-new, ek-ek dresses purchase jaana easy nahin tha (buying new clothes for each all was not easy), that's why we hired a tailor."
And from Navratri the painting of the family house in Bhimtal began. "It was a big house. By the time we had finished painting it would be Diwali. We would all get together and do it."
Twelve of them would paint, even the exterior, themselves using chunna mixed with neel (indigo) — "Uske saath pura ghar ki potai karte the. Sarein ke sarein thoda thoda kartein the, turn by turn. Yes, it was a lot of fun. Koiee ek yeh wall karega, ek yeh wall karega (We whitewashed the whole house with that. All of us, turn by turn. One would do one wall and someone another. We used a high stool to do the outside)."
Living in a joint family also meant that everything that arrived into the home was shared and distributed among the children.
"A limited amount of firecrackers was bought for the home. Not very much. Not like today where a thousand rupees worth is bought. Each got one pack of phooljari. And a few of those small crackers)."
Diwali was, also, but naturally about food. All the seasonal fruits filled the home. And kitchen got humming with the making of sweets and namkeen (salties). "Making Dal Ka Halwa was a must. Every Diwali. Abhi tak bhi banta hai (It is still made). Gujiya banta tha. Maida Ki Puri banti hai. Gud Ki Puri banti hai. Besan ki sev (Gujjiyas were made. Maida Ki Puri white flour puris were made. Gud ki Puri or jaggery puris were made. Besan Ki Sev)."
By Dhanteras all the khaana-pakana was complete. Even as young girls, Jayanti and her cousins pitched in.
"We helped stirring the halwa. It took a long time to roast. Because a large quantity of it was made. I rolled all the puris for the Gujjiya and would do the stuffing of them)."
Dhanteras meant going out and getting a few brass bartans. And there would be a small puja. The new bartans would be filled with mishri (rock candy) and batasha and offered during the puja.
The home was decorated with rangoli that they painted from oil paints.
On Diwali day, designs in gheru (white designs on red mud or earth background) outside the main door. Marigolds and ashoka leaves were bought from the bazaar and sewn into malas and torans at home.
Everyone in the home bustled about getting things ready for the two-hour Lakshmi Puja in the evening. The sweets and savouries had to be put out for prasad for the gods. The puja room/area had to be decorated. Everyone had to dress up.
"On that day no tawas or griddles were alowed to be used, only kadhais or woks. Using a tawa was not lucky. The Diwali day meal was puris and Dahi Kadhi, rice and a vegetable."
After the Lakshmi Puja everyone tucked into the prasad and dinner was eaten with great gusto.
"Uske baad mein app phatake chodo. Aur aas paas mein jo bhi rahte hai uss se mil lo (After that we lighted the crackers and met our neighbours)."
This whole hectic Diwali celebration brimmed with the happiness of doing things together as a family and the warmth and high spirits that marked those special days. The high point was always the scrumptious dishes that everyone cooked up.
Says Jayanti laughingly, "Most favourite is the food. Because of that we are eagerly awaiting ki Diwali aayegi and Dal Ka Halwa banega. It was compulsory. Woh jaroor banega. Usme bahut mehnat lagti thi. But woh sabse achha tha (We eagerly awaited Diwali for the Dal Ka Halwa because though it took a lot of effort it was always made and that was the best)."
This is the age-old special Rajasthani Dal Ka Halwa recipe that was faithfuly cooked every Diwali in Jayanti's Bhinmal family home and is her favourite: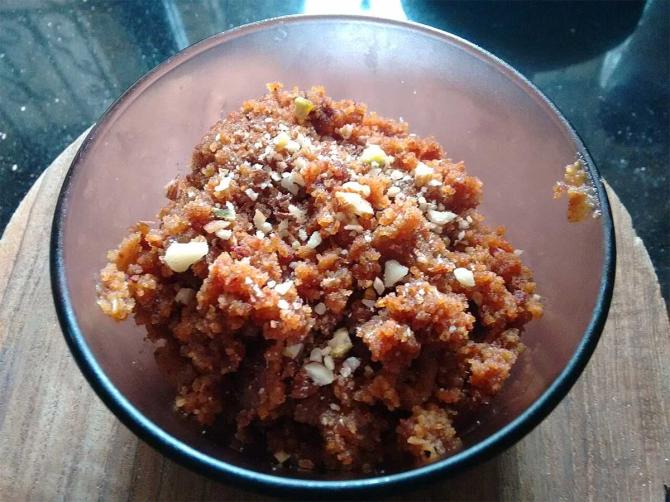 Mung Dal Halwa
Serves: 15
1 kg green mung dal
1 kg ghee
750 gm to 1 kg sugar
20 cashews, chopped
20 almonds, chopped
20 pistas, chopped
4 kernels walnuts, chopped
20-30 strands kesaror saffron
10-12 green elaichi or cardamom
1¼ litres water
Method
Soak the mung dal for 5-6 hours.
Grind the soaked dal in the mixer.
Heat the ghee to smoking point in a large heavy-bottomed kadhai or saucepan over high heat.
Take off heat and add the dal batter into hot ghee slowly.
Put back on heat and keep slowly stirring over medium heat till it become golden brown
Meanwhile, in a large heavy-bottomed kadhai or saucepan, make a chasni or sugar syrup by boiling the sugar, water and saffron over medium-high heat till it is single-string consistency.
Take off heat.
Make sure it is exactly one-string consistency because if it boils further, when the dal mixture is added to it, the halwa will get hard.
Take off heat.
Now start adding the roasted dal into the chasni.
This has to be done very carefully and methodically and ideally needs a helper.
One person adds the dal into the chasni and the other quickly stirs.
Return the saucepan or kadhai to heat and keep stirring this mixture slowly over low heat.
When the halwa starts oozing ghee at the edges it is done.
Add in the chopped nuts and take off heat.
Serve.
Editor's Note: One-thread consistency sugar syrup: It is important to keep testing for consistency while the sugar syrup is boiling.
The test for this is: Dip a spatula, preferably wooden, into the boiling sugar syrup and take out.
Some syrup would have coated the spatula.
Let it cool.
Touch the cooled syrup with your forefinger. Some syrup will come onto your finger.
Touch that with your thumb and separate thumb from forefinger.
When one little continuous delicate thread is formed by the syrup, when the coated forefinger is pulled away from your thumb, you have a one-string or one-thread consistency sugar syrup.
Source: Read Full Article