Valentine's Day is nerve-wracking only because people make it so; stop putting pressure on yourself to make it perfect, suggests Ravi Mittal, CEO, Quack Quack, an online dating app.
Have Relationship Problems? Ask rediffGurus for Relationship Advice
Valentine's Day planning is easily one of the most nerve-wracking processes for any couple; it isn't exactly a cakewalk, especially for new couples who are in the getting-to-know-each-other phase.
The day demands chocolates, flowers, and all things romantic, and most importantly, it requires you to have a clear understanding of your partner's likes and dislikes.
Dating app QuackQuack's Founder and CEO, Ravi Mittal comments, "Among the 2.60 million mutual matches last year, there were 9% more matches in February compared to other months."
"We even see an 18% rise in first messages during the first two weeks of the month."
1. We suggest discussing the matter with your partner
Find out if they are the kind that thinks Valentine's Day is just another marketing strategy for companies to make big bucks.
If so, a low-key celebration is best suited.
Get them a single flower from a local vendor, or even better, your own garden; you did not make the rich richer.
For best planning, it's crucial you know their thoughts on the day.
2. Take the old-school way
If your partner is a romantic, you can safely assume they are expecting you to do something special on the day of love.
Your best bet here is to embrace the old school Valentine's Day traditions.
Get a reservation in a moderately fancy restaurant that does not burn a hole in your pocket.
If that seems too much for now, you can always get your partner a box of assorted chocolates and a bunch of flowers.
It will satiate their expectations for now, but next year, you have to go bigger.
3. Do not set high expectations
It's easier said than done, but once you come in with a preconceived notion of how Valentine's Day should be celebrated, you are setting yourself up for disappointment.
Your idea of celebration and your partner's idea of it might not look the same; that does not mean they feel less.
Moreover, you are in a new relationship where you two are still in the learning phase; it would not be fair to your partner if you expect the world from them, especially at such an initial stage.
4. Don't ditch your friends
If you already have plans with your best friend, like every year, you should not ignore them just because you are now in a relationship.
Try to make time for both your partner and your friend.
Your relationship started only yesterday; your friends have been there with you forever.
5. No impulsive actions, please
Do not suddenly drop to your knees and start declaring your love for your partner, not if you aren't ready for it.
The pressure is high to make it perfect, but this isn't the way.
6. Focus on having fun
Valentine's Day is nerve-wracking only because people make it so; stop putting pressure on yourself to make it perfect.
Plan a date in an arcade and play games till you drop dead, or go on a food trip within your city. It is all about the memories you make.
7. Technology is your BFF
If you are in a new long-distance relationship, you can make use of the hundreds of online delivery services; from sending your partner's favorite food to sending fresh flowers, everything is just a click away.
Technology is your best friend; make use of it.
8. Take the first step
If you are tired of waiting for your partner to make plans, might we suggest you make them yourself?
You can ask them out too, you know?
You are in a new relationship, don't go overboard with the planning.
Something small but memorable, like taking them out to the place you had your first date, will be well appreciated.
9. DIY gifts for the win
Almost 47% of female users voted DIY gifts the best V-day gift in a poll run by the dating app QuackQuack.
There's your cue. Instead of buying generic things, you can try stretching your muscles and making them something; a hand-painted t-shirt or baked goods sound lovely.
Have Relationship Problems? Ask rediffGurus for Relationship Advice
Feature Presentation: Ashish Narsale/Rediff.com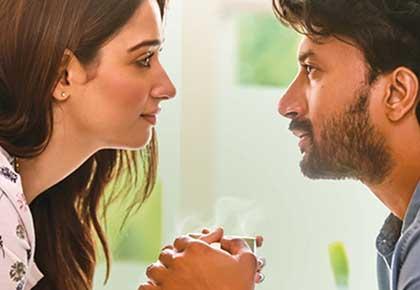 Source: Read Full Article