The contestants who are locked inside the Bigg Boss 14 house are Abhinav Shukla, Eijaz Khan, Rahul Vaidya, Pavitra Punia, Jasmin Bhasin, Nikki Tamboli, Jaan Kumar Sanu, Rubina Dilaik, Aly Goni, Kavita Kaushik and Shardul Pandit.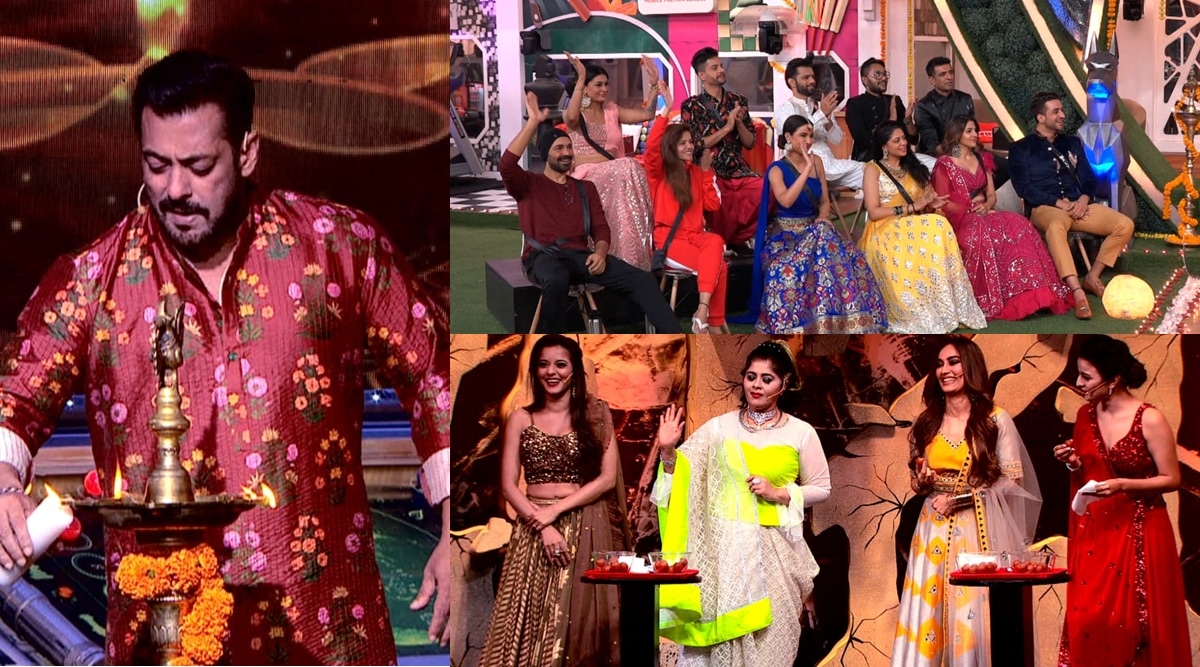 This week saw a lot of drama and emotions in the Bigg Boss 14 house. And, today being Weekend Ka Vaar with Salman Khan, it will be interesting to see who will be praised for his/her performance and who will be at the receiving end of the host's anger. Currently, the contestants who are locked inside the house are Abhinav Shukla, Eijaz Khan, Rahul Vaidya, Pavitra Punia, Jasmin Bhasin, Nikki Tamboli, Jaan Kumar Sanu, Rubina Dilaik, Aly Goni, Kavita Kaushik and Shardul Pandit.
For the nomination task, Bigg Boss asked contestants to sacrifice their personal belongings to save their co-contestants. Since most of the contestants completed the task given to them, only Rubina Dilaik ended up being nominated for eviction. Apart from her, Shardul got nominated by the guests and journalists, Amith Tyagi and Charrul Malik, during the BB Ki Adalat task wherein he had to give arguments as to why he deserves to be in the show.
Another highlight of the week was a captaincy task where the contestants were required to party all night, and the last person standing would be declared as the captain. After a lot of plotting, planning and arguments, Aly Goni managed to become the captain of the house.
Coming to relationships in Bigg Boss 14 house, the spark between Eijaz Khan and Pavitra Punia was reignited by director-choreographer Farah Khan. The two actors are once again drawing attention with their steamy romance. However, Nikki Tamboli and Jaan Kumar Sanu's friendship has hit a roadblock. Kavita Kaushik, meanwhile, continues to be at loggerheads with Eijaz since she cannot stand his 'fake' behaviour.
Follow all the latest updates about Bigg Boss 14.
Referring to Nikki Tamboli and Rahul Vaidya, Salman Khan says whenever he praises someone for their game, the contestant spoils his or her game. Salman questions Rahul and Nikki about the nomination task. Salman also pulls Pavitra's leg on her reaction to Eijaz breaking and spoiling his favourite photo frame during the nomination task.
Salman Khan questions Abhinav Shukla why did he save Kavita Kaushik in the nomination task. Abhinav says he wants to be in the game with like-minded people. Salman says during the task Abhinav sought Rubina's approval to save Kavita. Abhinav says that his decision was influenced, to which Salman agreed.
Salman Khan says the audience is confused about why people sacrificed their personal items in the nomination task. He talks to Aly Goni and asks why Abhinav Shukla's safety in the nomination was important than Jasmin's Dollu, which he sacrificed during the nomination task. Aly says he saw Rubina and Abhinav were taking very good care of Jasmin on behalf of him. Salman says if people are taking care of Jasmin so well, what made him come to the show? Salman makes him understand that he cannot make all of his friends win the game.
Jasmin says she is not able to sleep well ever since Dollu went away. Jasmin says she is attached to Dollu. Salman says she should be emotional for people but not a doll. Salman tells Aly sacrificed Jasmin's dear object for Abhinav. He says being good is nice, but Bigg Boss is a game.
In interaction with Salman Khan, Kavita Kaushik brings back Eijaz Khan's topic. She talks about how Eijaz misbehaved with her.
Salman Khan releases Rubina Dilaik and Abhinav Shukla from the jail. He questions did they understand the task Bigg Boss gave to the contestants in Friday's episode.
Salman asks Jasmin, Rubina and Abhinav about why they thought the task was about the correction of someone's act when Bigg Boss mentioned that the task is to punish the deserving contestants. Rubina says she misunderstood the task. Salman makes Rubina, Abhinav and Jasmin understand the task.
Salman Khan pulls Jasmin Bhasin's leg and tells her that she is in Bigg Boss and not Khatron Ke Khiladi. He shows a clip where Jasmin is seen talking about the reality show with different contestants. Salman makes her swear that she will never talk about Khatron Ke Khiladi ever on the show again.
Salman Khan enters the stage and informs the audience that viewers consider Rubina Dilaik as rocket while Jaan Kumar Sanu is the fuski bomb and chakri.
Eijaz Khan, Jasmin Bhasin, Kavita Kaushik, Shardul Pandit, Aly Goni, Jaan Kumar Sanu and other contestants assign cracker names (Fuski Bomb, Rocket and Chakri) to each other.
Pavitra is tagged Chakri by Eijaz. An upset Pavitra expresses her anger over not being tagged rocket by Eijaz.
Here's what happened in yesterday's episode of Bigg Boss Season 14.
After her exit from the house, Kavita Kaushik had shared with indianexpress.com her thoughts about Eijaz Khan's game inside the Bigg Boss house.
She said, "See, the fact is that Eijaz doesn't need love or friendship. He is very capable of surviving. All he needed in the house were chamchas (sidekicks). I soon realised he was not being a friend. He was not even a normal person. There is this junoon (obsession) in him, and it irritated the hell out of me. He needed validation every time, and he tried to make me his chamcha too. You all have seen how he is behaving in the past few days. He got a girl to wash his underwear, giving gifts to people who are pampering him. That's not how a captain should work. There are so many things that you haven't seen, and I don't blame the channel for it, as this is what creates drama. We know what we are getting in from day one. However, all I expect is that people should have some sense before giving their two cents on anything."
Bigg Boss 14 airs on Colors TV from Monday to Friday at 10:30 pm. On Saturday and Sunday, the show airs at 9 pm. The audience can also watch the episodes on Voot.
Source: Read Full Article