Not that Raghav has tasted success only on home soil. Last November, he helped India win the gold medal at the Singha Junior World Championship at Hua Hin, Thailand, carding 6-under on the final day.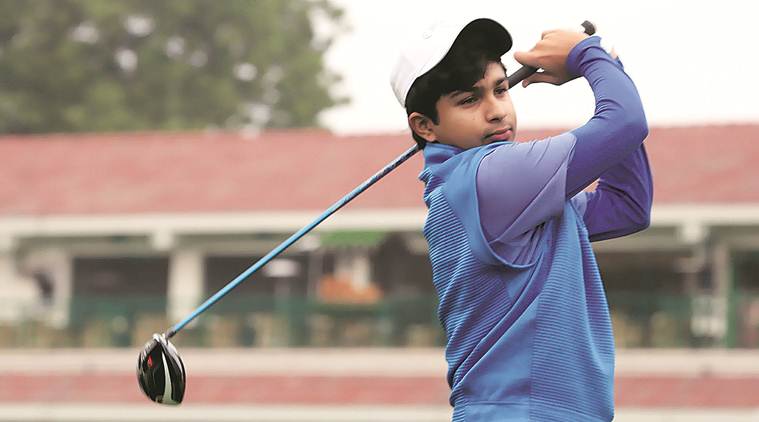 No aspect was insignificant. No detail was too small to be treated as trivial. If Raghav Chugh's golfing talents had to reach the desired stage, those around him ensured that nothing was left to chance.
Even before he entered his teens, Raghav had given enough indications that he was a special golfer. His skill at hitting the ball cleanly so impressed his maternal grandfather Vijay Mehta that Raghav's interest in cricket, football and basketball fell by the wayside. At 16, he is not only the country's best in his age group but can also hold his own against older players.
Raghav won the All India Junior Golf Finals in December 2018, his four-day score of 5-under was 10 strokes better than the runner-up. He also triumphed at the Eastern India Junior Boys Championship as well as the South Zone Championship last year, while coming up just short in the Western India tournament. He was ranked No.1 in the under-15 category in 2017 and followed it up with being the best on Indian Golf Union's u-18 merit list last year.
"He has the talent to be one of the best golfers ever to come out of India. Such a talent comes once in a very long time. In the country, no one in his age bracket comes close," says Raghav's coach Romit Bose, who over his 20 year career has guided golfing greats likes of Rashid Khan, Vijay Kumar, Himmat Rai, Chiragh Kumar, Manav Jaini, Ridhima Dilawari and Gurbani Singh.
Not that Raghav has tasted success only on home soil. Last November, he helped India win the gold medal at the Singha Junior World Championship at Hua Hin, Thailand, carding 6-under on the final day. He was the youngest player in the 15-18 age group at the Taiwan Junior Open, but ended up winning by 7 strokes.
Raghav's success can also be attributed to the meticulous planning and attention to detail. "As soon as Raghav began showing an interest in golf – he was about 10-11 years old then – we got him smaller clubs that suited his age and physique," Mehta says.
When he came under Bose's tutelage, Raghav began playing from forward tees. "At such a young age, it's not advisable to play the full length of a hole that the male professionals play. It may prompt kids to hit farther resulting in injuries. Also, playing from back tees may result in higher scores which may hurt a player's self-confidence at a crucial age," says Bose.
Still in his teens, Raghav has been to several famous courses around the world. His favourite happens to be at Turnberry, the venue of four Open Championships. "I went there in 2015. It was very windy," Raghav says.
Watching the greats from close quarters served as a source of inspiration. Raghav, who hones his game at Delhi Golf Club, was there when Tiger Woods played a round in February 2014. "I had heard of Tiger Woods before I even knew anything about golf. Seeing him in action was a great thrill."
Raghav has also been part of the Faldo Series, and attended a coaching clinic conducted by the six-time Major champion in Vietnam. "He gave an important piece of advice that one should have a definite aim in a practice round. One shouldn't just go through the motions for the sake of it."
Raghav claims to reach the 280-yard mark from the tee and his achievements in the sport have vindicated the decision of those close to him. "He was the captain of his school team in cricket, football and basketball. But when we focused on golf, there were a lot of people who said we were making a big mistake," Mehta recalls. "They said golf was an old man's game. But Raghav was attracted by the individual nature of the sport, which rewarded one's own effort."
According to Bose, the fact that Raghav played other sports helped his golf in terms of hand-eye co-ordination and competitive spirit. "Often when I'm about to go to sleep, I hear Raghav practising his putting on the terrace," his paternal grandfather KL Chugh says indulgently.
But whether his family is around or not, Raghav hardly ever suffers from lack of motivation. "When they are around, I can get a bit conscious. But I always get butterflies in my stomach while competing," says the golfing prodigy.
His Class X board exams are approaching, and the family is very particular that he doesn't neglect his studies. "If you get a serious injury or don't cut it at the top level, you need something to fall back on," Mehta says. Raghav's school allows him leeway as far as attendance is concerned, but he has to catch up with the lessons subsequently.
In fact, golf and academics leave Raghav with precious little time. And after his exams, he will be a golfing traveller for about five months. "At this stage of his career, he can't afford to sit at home for even two months. So, we have chalked out his schedule from April to August long time ago," Bose informs. "After a few tournaments in India, he will be off to the UK in May and to the US in July to play at events there."
Source: Read Full Article