England beat Sweden 2-0 at the FIFA World Cup and it gave former England players David Beckham, Wayne Rooney reason to poke fun at former Swede Zlatan Ibrahimovic.
David Beckham and Wayne Rooney have trolled Zlatan Ibrahimovic after England beat Sweden 2-0 on Saturday in the quarterfinals of the World Cup in Russia. Goals from Harry Maguire and Dele Alli gave England the win and took them into the semi-finals for the first time since 1990 World Cup.
Prior to the contest, Ibrahimovic and Beckham had agreed to a bet where the former Sweden international had proposed: "If England win I buy you dinner wherever you want in the world, but if Sweden wins you buy me whatever I want from Ikea, OK?" Beckham replied on Instagram, saying: "If Sweden win I will personally take you to Ikea and buy you whatever you need for the new mansion in LA. But when England win I want you to come watch an England game at Wembley wearing an England shirt and enjoy fish and chips at half-time."
— LA Galaxy (@LAGalaxy) July 6, 2018
https://platform.twitter.com/widgets.js
Beckham kept updating his Instagram story throughout the game, referencing his wager and calling on England to win. Before the game, Beckham urged England to win because he did not want to buy Ibrahimovic whatever possible at IKEA.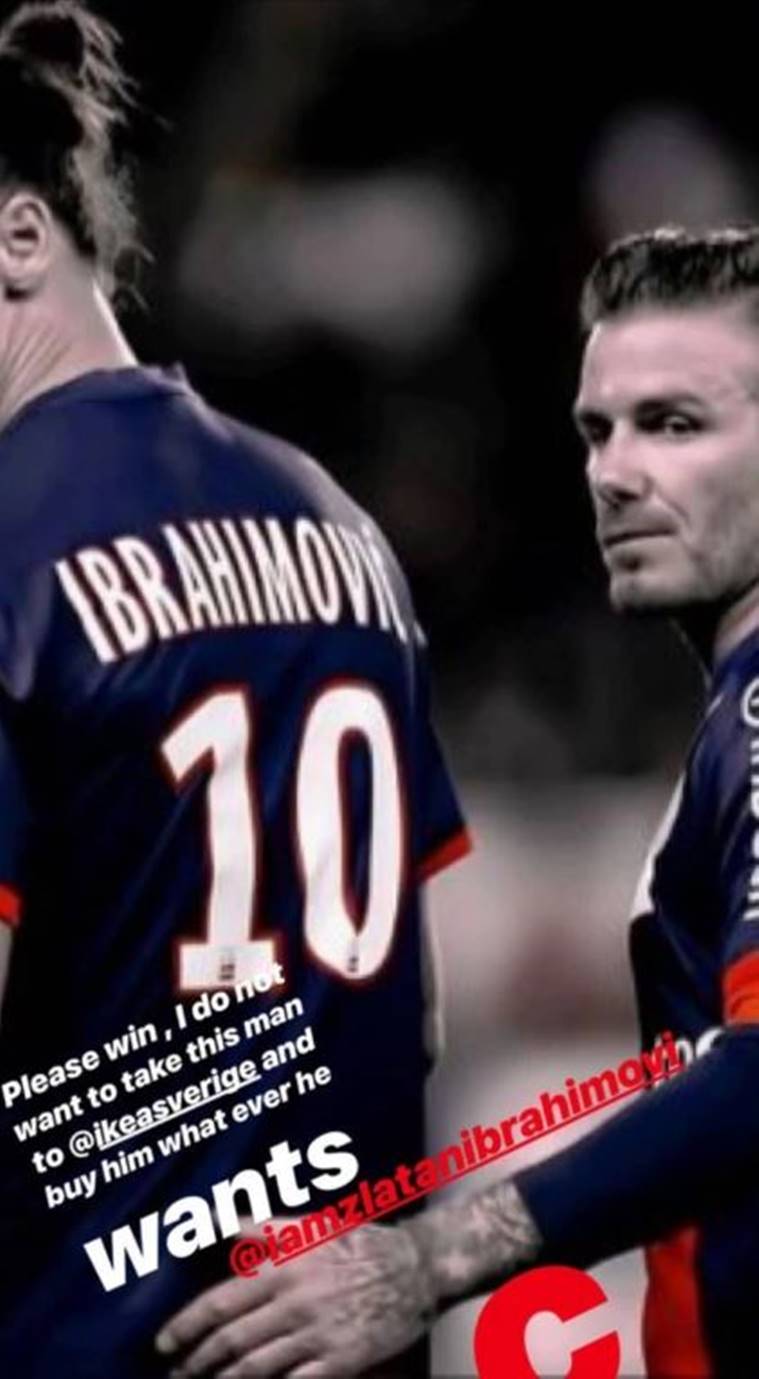 Upon the 90 minutes, Beckham posted a humorous photoshopped image of him and Ibrahimovic. On an image of the pair wearing England shirts, Beckham wrote: "Looks like someone's coming to Wembley again!"
As the tournament has progressed, social media and former players alike have had their dream of seeing England lift the World Cup rise. The last time England had won the World Cup was back in 1966 and the dream has led to increased usage of songs like 'It's coming home'. After England's entry into the semis, Beckham posted on Instagram his own version of "it's coming home."
Rooney too added salt to Ibra's wounds by writing on Twitter, "How you feeling today mate @Ibra_official? If you need a chat I'm always here ?". Meanwhile, Ibrahimovic praised the squad for going this far into the tournament and clearly punching above their weight. He wrote, "Every player should get a golden ball in Sweden. What they did will be remembered forever. Thank you for the show," in a tweet.
— Wayne Rooney (@WayneRooney) 7 July 2018
— Zlatan Ibrahimović (@Ibra_official) 7 July 2018
England produced a solid display against Sweden on Saturday and even though captain Harry Kane failed to add to his six goal tally, Maguire and Alli stepped up to take England forward.



Croatia end Russia's run, advance to World Cup semifinals for the first time since 1998




Robert Martinez's tactical genius: Romelu Lukaku on the right, using unexpected system
Source: Read Full Article