'Despite the subsequent events at Kargil and the October 12, 1999 military coup in Pakistan, the Lahore initiative firmly established Vajpayee's credentials as a crusader of peace,' says Colonel Anil A Athale (retd).
Part 1: The nuclear tests: Vajpayee's finest hour
'You can choose your friends, but not neighbours. India and Pakistan are neighbours and that cannot change. Now the issue is, would we like to live like good neighbours or continue to fight?'
It was this unassailable logic of geography that led Vajpayee to embark on the Lahore peace initiative on February 19, 1999. The groundwork for this was carefully prepared.
In the latter of half of 1998, due to economic sanctions, Pakistan was on the verge of economic collapse. Vajpayee seized the moment and bought sugar worth $200 million from Pakistan. A grateful Nawaz Sharif was thus won over.
To give a fillip to people to people contact, the Pakistani cricket team toured India in January 1999 and even received a standing ovation in Chennai when they won a well deserved victory.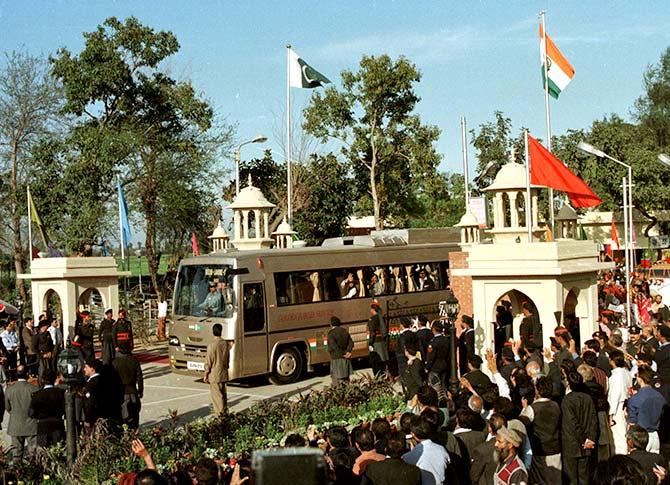 Through his 'bus diplomacy', Vajpayee began his quest for peace. He visited the Minar e Pakistan as a symbolic gesture to allay Pakistani fears that India has not accepted Partition and the existence of Pakistan.
Vajpayee's initiative was based on the harsh reality of nuclearisation.
The truth is that nuclear weapons are too dangerous, nuclear war cannot be 'won' and therefore must never be fought. It was believed that this was understood even in Pakistan.
Also, many in India felt that now that Pakistan possessed nuclear weapons, its sense of insecurity would be reduced and therefore this was the right psychological moment to begin the peace process.
Essentially, the crux of the Lahore initiative was to improve Indo-Pak relations to such a pitch that a resolution of Kashmir issue should become possible.
Starting the Lahore-Delhi bus service was a symbol of that resolve.
There were storm signals as well. The right wing Jamaat e Islami indulged in violence and even more significantly, General Pervez Musharraf, then chief of Pakistan's all powerful army, absented himself from the welcoming ceremony.
And the Lahore bus was soon stuck on the peaks of Kargil.
Despite the subsequent events at Kargil and the October 12, 1999 military coup in Pakistan, the Lahore initiative firmly established Vajpayee's credentials as a crusader of peace.
This move was also aimed at international opinion that had turned against India due to the nuclear tests.
Having established the Indian position as a nuclear weapons power to balance China in Asia, Vajpayee moved quickly to mend fences with the sole superpower, the US.
At his initiative, his able and astute colleague and confidant, Jaswant Singh, met then US deputy secretary of state Strobe Talbott on July 10, 1998, to begin a long running dialogue between the largest and the most powerful democracies of the world.
From July 1998 to September 2000, in what was the most extensive dialogue ever between the United States and India, Talbott and Singh met 14 times in seven countries across three continents.
They discussed both the immediate items on the security and non-proliferation agenda, as well as their wider vision for US-India relationship and the potential for economic and strategic cooperation between the two countries.
The ground work laid down during these talks bore fruit when a year later, India faced an armed conflict with Pakistan on the Kargil heights.
Vajpayee, the war-time prime minister: Don't miss the next part of Colonel Athale's assessment of Vajpayee's national security legacy.
Colonel Anil A Athale is currently co-ordinator of the Pune-based Initiative for Peace And Disarmament affiliated with the Bharatiya Vidya Bhavan.
Source: Read Full Article