BCW's Twiplomacy study 2018 identified PM Modi as the third most followed world leader on Twitter, while Sushma Swaraj is the most followed female world leader.
Prime Minister Narendra Modi is the third-most followed world leader on Twitter with 42 million followers on his personal account @NarendraModi, according to a study on 'world leaders on social media' conducted by BCW.
As of May 18, 2018, Modi is just behind US President Donal Trump and Pope Francis. The official account of the prime minister @PMOIndia boasts of the fourth-largest following with 26 million followers.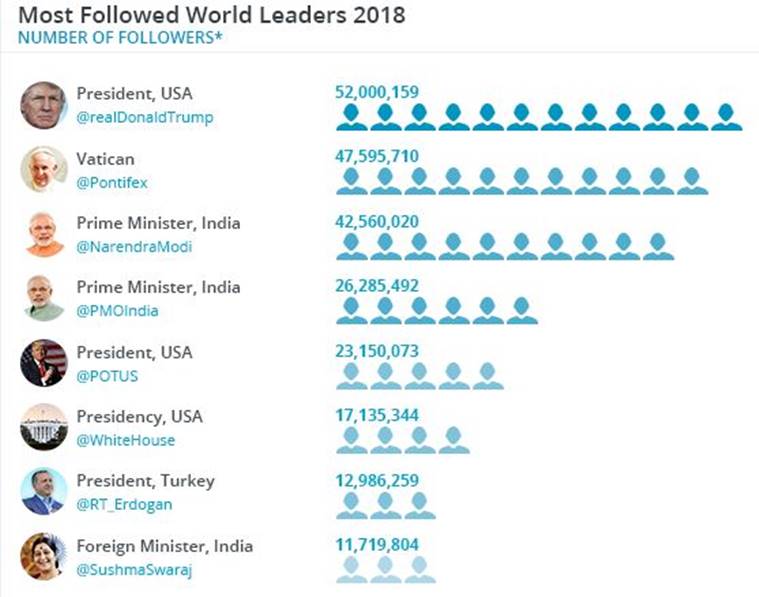 According to the study, ninety-seven per cent of all 193 United Nations (UN) member states have an official presence on Twitter, except, the governments of only six countries, namely- Laos, Mauritania, Nicaragua, North Korea, Swaziland, and Turkmenistan. Even the Chinese government's State Council Information Office maintains a presence on Twitter, Facebook, and YouTube, and seven Chinese embassies, as well as one Chinese ambassador, are now active on Twitter.
Sushma Swaraj, India's External Affairs Minister also made it to the top 10 list of the most followed world leaders, with more than 10 million followers on Twitter. She also happens to be the most followed female world leader, as well as foreign minister on Twitter with 11 million followers. Among foreign ministries, India stands third on the micro-blogging site with more than 1 million followers.
With 52 million interactions over the past 12 months, Narendra Modi stands to be the second most influential leader in the world after US President Donal Trump.
According to the Twitter lists on @Twiplomacy, more than 4,600 embassies and 1,400 ambassadors are now active on Twitter, including  Luo Zhaohui, the Chinese Ambassador to India (@China_Amb_India).
Another sign of Twitter popularity is the number of times an account appears on a Twitter list which can not be easily faked. Prime Minister @NarendraModi has featured on more than 20,000 Twitter lists, way behind President Trump, Russian Prime Minister Dmitry Medvedev, and three others.
BCW's Twiplomacy study 2018 identified 951 Twitter accounts – 372 personal and 579 institutional accounts – of heads of state and government and foreign ministers of 187 countries. Facebook, the second most popular platform among government leaders followed by Instagram.
Source: Read Full Article