The first spending item on the chopping block is capital expenditure, followed by operating costs and overheads, including sales and marketing expenses.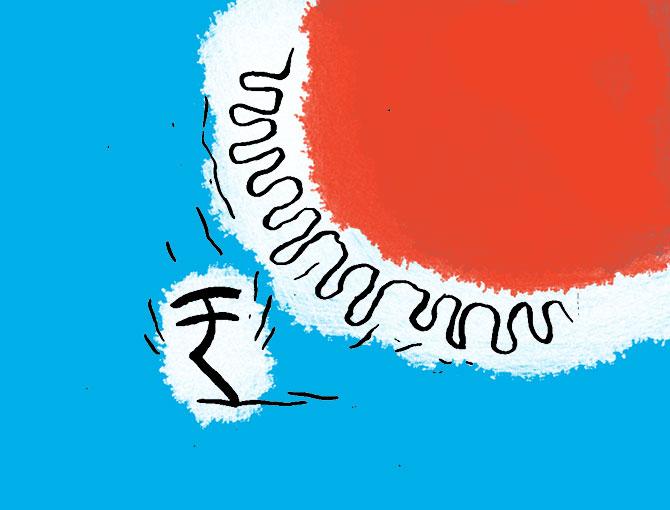 India Inc is on a war footing to cut costs and save cash to counter the dip in revenues and profits caused by the COVID-19 pandemic.
The first spending item on the chopping block is capital expenditure (capex), followed by operating costs and overheads, including sales and marketing expenses.
Aditya Birla Group flagship Grasim Industries, for example, has put all capacity expansion plans on hold, with the exception of routine maintenance capex.
Prior to the pandemic, the company was implementing a Rs 7,800-crore capex programme in its viscose staple fibre and chemical divisions.
Of this, it has already spent Rs 2,800 crore and placed the rest of the project on hold.
"We are monitoring the emerging demand scenario due to the lockdown," the firm told analysts in its results presentation for the fourth quarter (Q4).
Grasim's cement subsidiary UltraTech Cement has also decided to cut its capex by half.
"Due to Covid-19, we have restricted our capex plans to around Rs 1,000 crore," UltraTech Cement executive director and chief financial officer Atul Daga told analysts during Q4 of 2019-20 (FY20) earnings conference call.
"We have slowed down the work on the 2.2-million tonne Cuttack grinding unit, which was scheduled for commissioning in March 2021," he added.
Earlier the cementmaker was planning to spend around Rs 2,000 crore on capex in FY20 and 2020-21 (FY21) each.
Steelmaker JSW Steel, on the other hand, has decided to cut capex spend by nearly Rs 7,000 crore.
The company now plans to spend Rs 9,000 crore on capex in FY21, against the earlier guidance of Rs 16,340 crore.
The JSW management is also reviewing commercial contracts and is renegotiating all old contracts across group companies.
"Cost-cutting is happening in every vertical ruthlessly, so as to conserve cash," said a group executive.
"We plan to save at least 10-15 per cent on our entire commercial buying. Another area is fixed costs like administrative expenses, salaries, and outsourcing activities," the executive added.
Electrical appliance maker Havells India, on the other, is largely looking at rationalising its overheads and operational costs.
"We just completed a capex programme that is meeting our requirement for the next two years at least.
"We have become cost-conscious and there would be some savings through cuts in executive travel, dealer conferences, and rationalisation of advertising and marketing expenses," said Anil Rai Gupta, chairman and managing director, Havells India.
Tata Motors plans to save nearly Rs 14,500 crore in FY21 through a mix of cost-cutting and lower capex at its British subsidiary Jaguar Land Rover.
"We have now increased our cost savings target for March 2021 to £5 billion (around Rs 48,000 crore) – implying £1.5 billion (around Rs 14,500 crore) of cost and cash savings in the current financial year," the company said, during its results presentation for Q4FY20.
As part of this, the company has deferred or cancelled lower margin and non-critical investment and is targeting investment spending of £2.5 billion in FY21, against £3.3 billion spent in FY20 and £3.8 billion in 2018-19.
Two-wheeler maker Eicher Motors will shut nearly a dozen regional offices as part of cost-saving exercise.
In the first round, Royal Enfield's offices in Bengaluru, Bhubaneswar, Chennai, Gurgaon, Mumbai, Hyderabad, and Ranchi will shut.
There will not be any retrenchment and employees will continue to work from home, which the company claims will save travel time, besides lower its overheads and rentals.
Source: Read Full Article