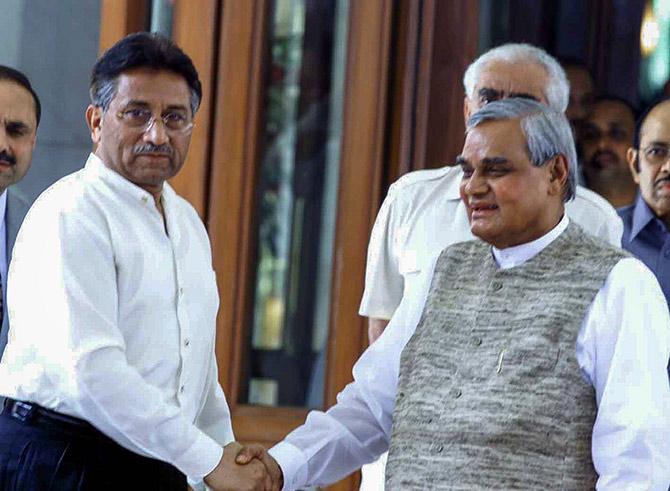 It was a short-lived thaw in stormy relations between India and Pakistan when Atal Bihari Vajpayee took a bus to Lahore in 1999 and hugged his Pakistani counterpart Nawaz Sharif leaving an endearing image that symbolised hope in bilateral ties.
Pakistan's prime minister-in-waiting Imran Khan on Friday expressed condolences over the demise of former premier Atal Bihari Vajpayee, saying his efforts for India-Pakistan peace will always be remembered.
Khan said in a statement that Vajpayee was a prominent political personality of the sub-continent and his death has created a big void.
'Efforts of Mr Vajpayee for improvement in relations between Pakistan and India will be remembered forever,' said Khan.
He said Vajpayee started efforts for improving Indo-Pak ties and continued them after becoming prime minister.
'As foreign minister Vajpayee strived to open up ways towards normalisation of relations among neighbouring states and had successfully taken this agenda to new heights after assuming the office of prime minister,' the statement read.
Khan said, 'I extend sympathies to the people of India in this hour of grief.'
He further said that by creating peace between the two countries, 'we can truly recognise the service of Vajpayee'.
Pakistan's Foreign Office (FO) spokesman said in a statement that 'we have learnt with sadness the passing away of Mr Atal Bihari Vajpayee'.
"Mr Vajpayee was a renowned statesman who contributed to bringing a change in India-Pakistan relations and remained a key supporter of SAARC and regional cooperation for development," the spokesman said.
He said the government and people of Pakistan extend their 'heartfelt condolences' to Vajpayee's family and to the government and people of India.
Vajpayee, who died on Thursday at the age of 93 after a prolonged illness, had made a significant diplomatic breakthrough and travelled on a bus from Amritsar to Lahore with a delegation that included the likes of Bollywood legend Dev Anand, writer Javed Akhtar and cricket icon Kapil Dev.
The move was hailed as the dawn of a new era in Indo-Pak relations.
"I bring the goodwill and hope of my fellow Indians who seek abiding peace and harmony with Pakistan… I am conscious that this is a defining moment in South Asian history and I hope we will be able to rise to the challenge," Vajpayee had said upon arrival at Lahore to a rousing welcome.
After talks between the two prime ministers, the Lahore Declaration was signed, under which, among other things, it was agreed upon that the two sides were fully committed to undertaking measures to reduce risks of accidental or unauthorised use of nuclear weapons.
However, the bonhomie between India and Pakistan did not last long as just months after the visit, the Pakistan Army undertook a covert operation to send its troops into Kargil in Jammu and Kashmir that led to a limited conflict that Pakistan lost.
"He (Vajpayee) gave a speech in Lahore, (it) was very touching because he said that as far as he was concerned, he will not allow a conflict to happen. And that speech carried a huge impact, it was played on Pakistan television," Gopalaswami Parthasarathy, who was India's high commissioner to Pakistan when Vajpayee visited Lahore, told PTI.
Former foreign secretary Salman Haidar said Vajpayee's contribution to Indo-Pak ties was something that speaks for itself as 'he took a great deal of initiative in bringing the two countries into closer proximity with each other'.
On Vajpayee's Lahore bus journey to give peace a chance, Haidar said, "I think it was a unique gesture by the prime minister of India and something that does him a great deal of credit."
Vajpayee is said to have always believed in giving diplomacy and talks a chance and in 2001 he invited the then Pakistan President Pervez Musharraf to India for a two-day Agra summit meeting.
However, the talks ended without an agreement and the long-running dispute over Kashmir was seen as the main reason for the deadlock.
Former Pakistan Foreign Minister Khurshid Mahmud Kasuri later wrote in his book Neither a Hawk nor a Dove that the 'solution to Kashmir was in the grasp of both governments' at the Agra Summit, but could not materialise.
"Though, the Agra Summit failed, we gained because we invited him (Musharraf), and he misbehaved," Parthasarathy said.
"He (Vajpayee) was prepared to go the extra mile for peace, but he was also prepared to use military force in defence of the country as he did during Kargil and thereafter the military deployment after the Parliament attack," the former Indian envoy to Pakistan said.
Source: Read Full Article