Maharashtrian cuisine with its wide variety of flavours never ceases to surprise.
A regular fare in every Maharashtrian household, Zunka is a dry, spicy variant of the famous pithla, with besan or chickpea flour as the star ingredient.
Zunka is traditionally served with jowar bhakri for a complete balance of taste and nutrition.
Mumbai may have always been identified with Vada Pav, but in the '90s a worthy competitor emerged in the form of the humbler Zunka Bhakar, which got an official boost from the then Shiv Sena-BJP government when they opened up kendras across the state to serve hearty meals of this combo — at a princely price of Rs 1.
Soon, as these kendras stopped selling Zunka Bhakar due to various reasons, this wholesome fare is now limited to dine-in restaurants in Maharashtrian-dominated parts of the city.
Quick to make, with easily available ingredients, zunka is a must-try if you want to experience the authentic taste of rustic Maharashtra.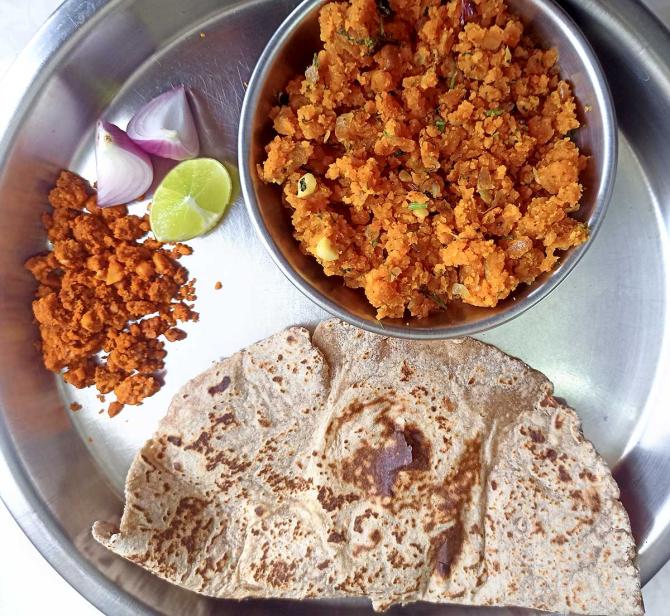 Zunka
Serves: 3-4
Ingredients
1 cup besan or chickpea flour
1 medium onion, chopped
1 tsp chopped garlic
1 tsp minced ginger, crushed in a mortar and pestle
1 tsp minced green chilly, crushed in a mortar and pestle
½ tsp rai or mustard seeds
½ tsp jeera or cumin seeds
1 tsp red chilly powder
½ tsp haldi or turmeric powder
½ tsp dhania or coriander powder
¼ tsp garam masala, optional
2 tbsp chopped green dhania or coriander or cilantro leaves, for garnish
3 tbsp vegetable oil, preferably peanut oil
Pinch hing or asafoetida
Hot water
Salt to taste, about 1 tsp
Method
Heat the oil in a kadhai.
Add the mustard seeds, cumin seeds, hing.
Let it splutter and crackle.
Add the garlic, ginger, green chilly and stir.
Add the chopped onion and saute until translucent for about 5 minutes.
Add the dry spices — the haldi, red chilly powder, coriander powder, garam masala.
Add the salt.
Stir gently for a minute over low heat, without burning the spices.
Add the besan and let it mix well with the masala.
Keep stirring for 5 minutes until well-combined.
Once the besan turns aromatic, sprinkle a little hot water and mix.
Repeat this in batches until you get a uniformly moist mixture.
Make sure there are no dry lumps.
Cover and let simmer it for 10 minutes or until the besan is completely cooked.
Garnish with fresh coriander leaves and serve with hot bhakris.
Source: Read Full Article