Ariana Grande just left a comment on an Instagram basically telling people not to get engaged. And what about it?! The singer, who recently ended her own engagement, commented on a Instagram from The Zoe Report account talking about tips and tricks for finding the perfect ring. Ariana Grande's comment about engagement rings on Instagram is the funniest sh*t I've seen today, and I am also very glad I am not Pete Davidson right now.
"13 tips & tricks for finding the perfect engagement ring (including the popular metal you should actually avoid)," the post on The Zoe Report's account said on Nov. 8. Grande slid into the comments section of the post and said "don't." An icon if I ever saw one. Of course, Grande speaks from experience now, given that she and Pete Davidson got engaged in June 2018 and are now officially broken up.
Davidson addressed the breakup during Weekend Update on Saturday Night Live on Nov. 3. "The last thing I will say is I know some of you are curious about the breakup, but the truth is, it's nobody's business," he said. "And sometimes things just don't work out, and that's OK. She's a wonderful, strong person, and I genuinely wish her all the happiness in the world."
According to reports, Davidson's comments during Weekend Update were his official reaction to Grande's latest single, "thank u, next," in which she lists him by name as of one her exes who taught her a lesson about life.
Apparently, the latest lesson she has learned is not to get engaged.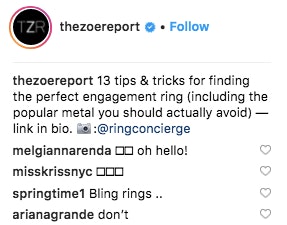 I'm crying over this, y'all. She really is done with relationships right now.
To prove this even more, Grande tweeted a hilarious sigh of relief when a fan said "thank u, next" was about to end all of her fans' relationships.
"Ariana Grande is like one song away from making girls never talk to guys ever again," the fan tweeted. "Thank god," Grande responded. God is a woman and her name is Ariana Grande.
"Thank u, next" has become a breakup anthem for the ages (and an instant meme) in the four days since it's been out.
The memes. I love the memes so much.
In the song, she lists her exes by name and sings,
Then she lists what they taught her, though she's not specific about who taught her what.
Then comes the iconic chorus.
And now she's commenting on Instagrams telling women not to get married. I love this era of Ari.
Source: Read Full Article