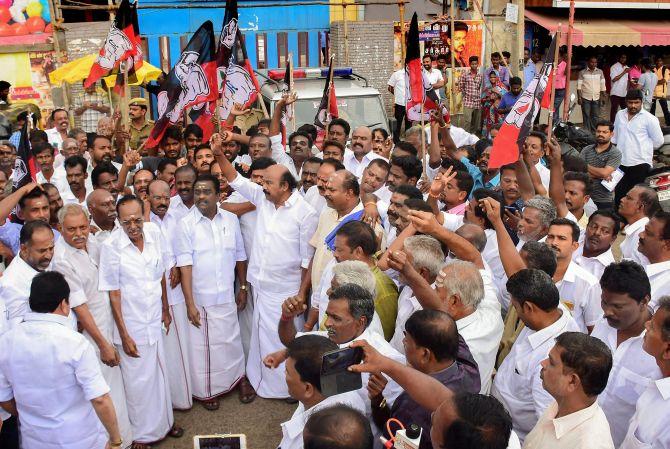 The Madras high court on Friday restrained police from arresting director of Tamil film Sarkar A R Murugadoss till November 27 on complaints related to some scenes opposed by the ruling All India Anna Dravida Munnetra Kazhagam in the state.
Meanwhile, following the protest from the AIADMK cadre against the alleged negative portrayal of former chief minister J Jayalalithaa in the political thriller, the Central Board of Film Certification made three cuts in the film and removed certain objectionable scenes.
In a new certificate, issued by the CBFC, the three cuts have reduced the duration of the movie by five seconds.
The movie, which stars Tollywood actor Vijay, ran into trouble over some scenes that allegedly criticise the previous Tamil Nadu government led by the late J Jayalalithaa.
The first cut in the movie deleted the 'visuals of throwing mixie and grinder in fire', which was five seconds long.
The second cut involved muting the name 'Komala' 'from the full name 'Komalavalli' (wherever it occurs)'.
The name was even removed from the 'corresponding subtitle'.
In the third cut, the dialogues 'Podhuppaniththurai' which roughly stands for Public Works Department, and '56 varusham' or 56 years were muted and was removed from their corresponding subtitles.
The movie will now be shown with a U/A certification.
AIADMK protesters on Thursday tore the posters of the movie in Coimbatore, Madurai, and Chennai and demanded the arrest of Murugadoss.
But on Friday, the Madras HC issued a restraining order against his arrest till November 27 after he sought an anticipatory bail in this case.
Justice G K Ilanthiraiyan passed the interim order on the anticipatory bail petition filed by Murugadoss, who apprehended arrest over complaints filed in connection with the 'objectionable' scenes.
When the petition came up for hearing, police informed the judge that only preliminary investigation was being conducted on the complaints against Murugadoss.
Certain scenes in the film, which show grinder, mixers and fans being burnt, have created law and order problem, they submitted.
Counsel for the petitioner contended that the protests by the AIADMK workers against the film which had been certified by the Censor Board was totally unlawful.
He also claimed that the director had dealt with "real problems" faced by the people and no viewer had objected to it.
The counsel also informed the judge that the objectionable portions had already been removed from the film.
The judge later adjourned the petition to November 27 for further hearing.
With inputs from ANI
Source: Read Full Article