The voting season is here and the month-long schedule of Lok Sabha Elections 2019 has been underway. It commenced on April 11 and will conclude on May 19. Every Indian citizen will be casting their vote for the party which they think will serve the country better. And today, as the whole of Mumbai is voting, being the hometown of many Bollywood celebs, stars have literally come closer to their fans as they have been queuing up along with regular people to cast their votes.
While the B-town celebs are abiding by their responsibility and exercising their right to vote for the candidate of their choice, a handful of celebrities won't be spotted at any of the polling booths. From Akshay Kumar, Alia Bhatt, Deepika Padukone, Katrina Kaif to Sunny Leone, Imran Khan and Jacqueline Fernandez, Ananya Panday and Rishi Kapoor – these Bollywood stars will not be able to vote today. Here's why:
Akshay Kumar
This may come as a surprise to you but the fact is that Akshay is not eligible to vote during elections in India. The actor was born in Punjab and brought up in Delhi. Still, wonder what is the reason? Well, Khiladi Kumar holds a Canadian passport and that is exactly why he hasn't been voting for many years.
Alia Bhatt
Alia Bhatt's mother, Soni Razdan, hails from Britain. Hence, the actress herself is a British citizen and holds the same passport. Ultimately, that means the Raazi actress is not liable to vote in the forthcoming elections.
Katrina Kaif
Katrina Kaif is an English citizen and it is a known fact. The actress has been in the industry for over a decade but she is not eligible to vote as Kat still has a UK passport.
Sunny Leone
Sunny Leone aka Karenjit Kaur holds a Canadian passport and although she has her roots in India, the actress cannot vote.
Jacqueline Fernandez
Jacqueline Fernandez's mother belongs to Malaysia while her father is a Sri Lankan citizen. The actress was born in Bahrain and well, these are reasons enough for her not being eligible to vote in the elections in India.
Imran Khan
Aamir Khan's nephew and actor, Imran Khan, made his Bollywood debut with Jaane Tu Ya Jaane Na. He was born and brought up in the United States Of America and moved to India only after his parents' separation.
Ananya Panday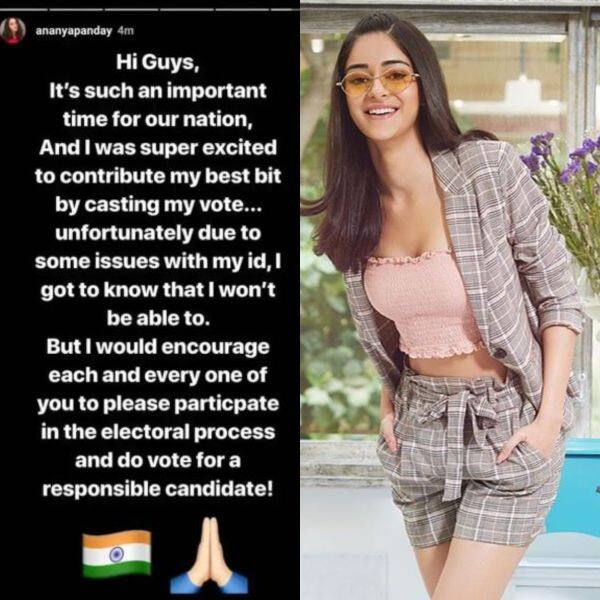 While the other two students Tara Sutaria and Tiger Shroff from Student Of The Year 2 have already cast their vote, debutante Ananya Panday recently revealed that she will not be able to exercise her right to vote as there is some issue with her voting identity-card, but urged citizens to step out and vote. The 20-year-old shared on her Instagram story, "Hi guys, It's such an important time for our nation, And I was super excited to contribute my best bit by casting my vote… unfortunately due to some issues with my id, I got to know that I won't be able to. But I would encourage each and every one of you to please participate in the electoral process and do vote for a responsible candidate."
Rishi Kapoor
Before Ananya, veteran actor Rishi Kapoor, who is stationed in New York since September last year, undergoing medical treatment, revealed that he had tried exploring options to be able to cast his vote from across the globe. Rishi, who is extremely active on social media, shared, "Called the Indian Consulate's office here in NY to inquire if there was any facility for people like us to vote (away from home) There wasn't." The actor went on to advise his followers to go to the polling booth and exercise their right as citizens. Rishi Kapoor added, "Please do not forget to vote wherever and whenever you have to. Jai Hind! Vande Mataram!"
Do you know such interesting facts about any actor or actress? Do tweet to us @bollywood_life.
Source: Read Full Article